Print Options:
Veggie Sticks with Avocado-Lime Dip
YieldsMakes 1 cup; 6 servings
Time: 30 minutes. Here's a healthy party snack to mix in with the rich ones for your calorie-conscious guests.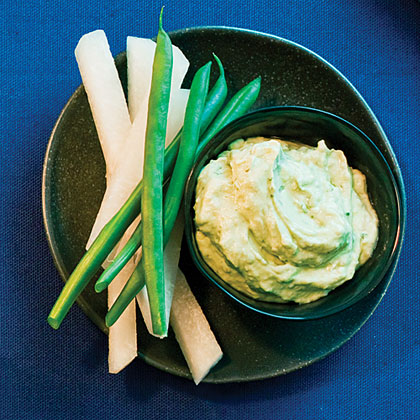 Photo: Thomas J. Story; Styling: Dan Becker
1/2 pound green beans, ends trimmed
1 firm-ripe avocado (10 oz.), pitted and peeled
1/2 cup plain nonfat yogurt
2 tablespoons fresh lime juice
1 tablespoon loosely packed fresh mint leaves, rinsed (optional)
1/2 pound jicama, peeled and cut into 1/2-inch-thick sticks
Step 1
1
In a 2- to 3-qt. pan over high heat, bring about 1 qt. water to a boil. Add green beans and cook until tender to the bite, 3 to 6 minutes. Drain and immerse immediately in ice water until cool, about 2 minutes; drain again.
Step 2
Step 3
3
Spoon dip into a bowl and serve with green beans and jicama sticks.
Step 4
4
Note: Nutritional analysis is per serving.
Nutrition Facts
Servings Makes 1 cup; 6 servings
---
Amount Per Serving

Calories 113

Calories from Fat 58

% Daily Value *

Total Fat 7.4g

12

%

Saturated Fat 1g

2

%

Cholesterol 0.4mg

1

%

Sodium 179mg

8

%

Total Carbohydrate 12g

4

%

Dietary Fiber 6.1g

3

%

Protein 2.7g

6

%
---
Percent Daily Values are based on a 2,000 calorie diet. Your daily value may be higher or lower depending on your calorie needs.