Print Options:
Lemon-Lime Macaroon Bars
YieldsMakes 32 bars (serving size: 1 bar)Total Time1 hr 15 minsChill Time3 hrsTotal Time4 hrs 15 mins
Toasted coconut in the crust and two kinds of citrus make this tart-sweet take on lemon bars rich and highly addictive. For bright yellow bars with flecks of zest but no foamy top, whisk the egg mixture just enough to blend.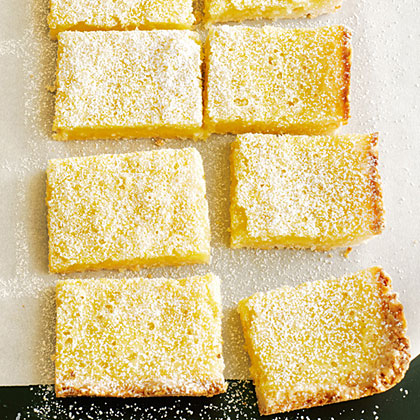 Photo: Annabelle Breakey; Styling: Robyn Valarik
2 cups sweetened flaked coconut, toasted*
1 cup cold butter, cut into chunks
Powdered sugar (optional)
Step 1
1
Preheat oven to 350°. Make crust: Pulse all ingredients except butter in a food processor. Add butter and pulse until crumbly and butter is in small pieces.
Step 2
2
Grease a 9- by 13-in. baking pan. Press crust into bottom and slightly up sides. Bake until light golden, 25 minutes. Let cool 20 minutes.
Step 3
3
Make filling: Whisk together flour and granulated sugar in a medium bowl, then whisk in eggs and citrus zest and juice just to blend. Pour over crust and bake until only slightly jiggly in center, about 22 minutes. Let cool, chill several hours or overnight, and cut into bars. Dust with powdered sugar if you like.
Step 4
4
*Toast coconut at 350° on a rimmed baking sheet until light golden, about 5 minutes.
Nutrition Facts
Servings Makes 32 bars (serving size: 1 bar)
---
Amount Per Serving

Calories 171

Calories from Fat 42

% Daily Value *

Total Fat 7.9g

13

%

Saturated Fat 5.3g

9

%

Cholesterol 39mg

13

%

Sodium 87mg

4

%

Total Carbohydrate 24g

8

%

Dietary Fiber 0.7g

1

%

Protein 1.7g

4

%
---
Percent Daily Values are based on a 2,000 calorie diet. Your daily value may be higher or lower depending on your calorie needs.