Xurros (Spanish-Style Doughnuts)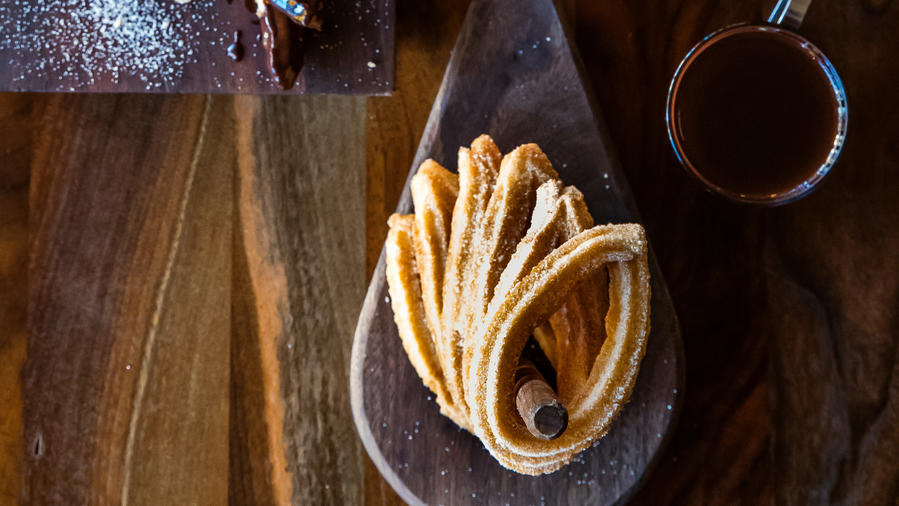 Churros may be all over the West these days, but few surpass the light, crunchy perfection of those at 180 Xurros, a Portland, Oregon churrería devoted to making doughnuts in the Spanish style. (Xurros is the Catalan spelling.) "They're eaten for every occasion there," says co-owner Cristina Baez, who owns the shop with her husband, chef Jose Chesa, who is from Catalonia. Unlike the thicker, richer type you'd find in Latin America, Baez and Chesa's version is made with a minimalist flour-and-water dough. At 180 Xurros—the place gets its name from the ideal Celsius frying temperature for the Spanish treat—they're cooked to order and served with a little cup of thick hot chocolate upon request.
How to Make It
Step 1
1
Bring 2 cups water to a boil in a medium pot. Meanwhile, heat flour and salt in ­another medium pot and cook over medium heat, whisking constantly, until the flour is warm to the touch (about 110° on an instant-read thermometer), 1 1/2 to 2 minutes. "Heating the flour helps it absorb water," Baez says.
Step 2
2
Set the flour pot on a heatproof surface. Then pour in boiling water all at once, and stir vigorously with a wooden spoon, mashing and folding to pound out all the lumps. "The hot water interferes with gluten formation and helps the xurros stay tender." Stop when the dough is smooth, thoroughly blended, and gathered into a ball, about 1 minute. It will be stiff.
Step 3
3
Smear 1 tsp. oil on a wooden board. Scrape dough ball out of pot onto board and let cool, uncovered so steam can release, until softened and just cool enough to touch, 10 to 15 minutes. "It's very stiff, so let it sit until the flour absorbs the water fully and evenly."
Step 4
4
Meanwhile, pour enough oil into a large, wide, heavy-bottomed pot to come 1 1/2 to 2 in. up the side—enough oil so that the xurros can float and the heat stays constant. Clip a deep-fry thermometer to inside of pot and heat over high heat until oil reaches 375°.
Step 5
5
Knead the warm dough 1 to 2 minutes, "just until it feels silky-smooth, like Play-Doh." Stop as soon as you sense it's getting sticky or stretchy. 
Step 6
6
Line two rimmed baking sheets with parchment. Pack 1/3 to 1/2 of dough into a churro press* fitted with a deeply indented 5/8-in. star disk, tamping firmly with the oiled handle of a wooden spoon to press out all the air. (Don't use an icing bag with a conical star tip; the dough won't release steam properly.) Plunge spoon handle into center of dough, down to disk, to create a tunnel and help release any remaining air pockets. Screw top onto press and, holding press vertically over baking sheets, extrude dough straight down in 6-in. lengths onto sheets, using a finger to cut dough off from press. To make loops, pipe 7-in. sticks and gently press the ends together. If you like, indent the top of a few loops to form heart shapes. 
Step 7
7
Combine sugar and cinnamon in a small bowl, and set aside. 
Step 8
8
When oil is hot, add as many xurros as you can without crowding (3 to 8, depending on shape), and fry, stirring occasionally with a spider or slotted spoon or spatula, stirring and flipping often. "Cook them until they're just golden and crispy, not brown," 4 to 5 minutes. Adjust heat to keep oil temperature between 355° and 375°. 
Step 9
9
Lift xurros from oil and let excess drip into pot for a second. "Break one open to make sure they're not doughy in the middle. The first xurro goes to the chef!" Put xurros in a large bowl, sprinkle generously all over with cinnamon sugar, and toss to coat evenly. Pour onto a plate. Allow oil to return to about 375,° then fry and sprinkle remaining dough the same way.
Step 10
10
Serve xurros immediately, with small cups of drinking xocolata.
11
*Find churro presses such as the Bernar Churro Maker from Spain (from $20) at or the Ibili Churrera ($25) at . A cookie press produces softer, less sharply fluted shapes than a churro press, but the ­results are still crunchy and delicious.